Revue de presse jeu vidéo : septembre 2018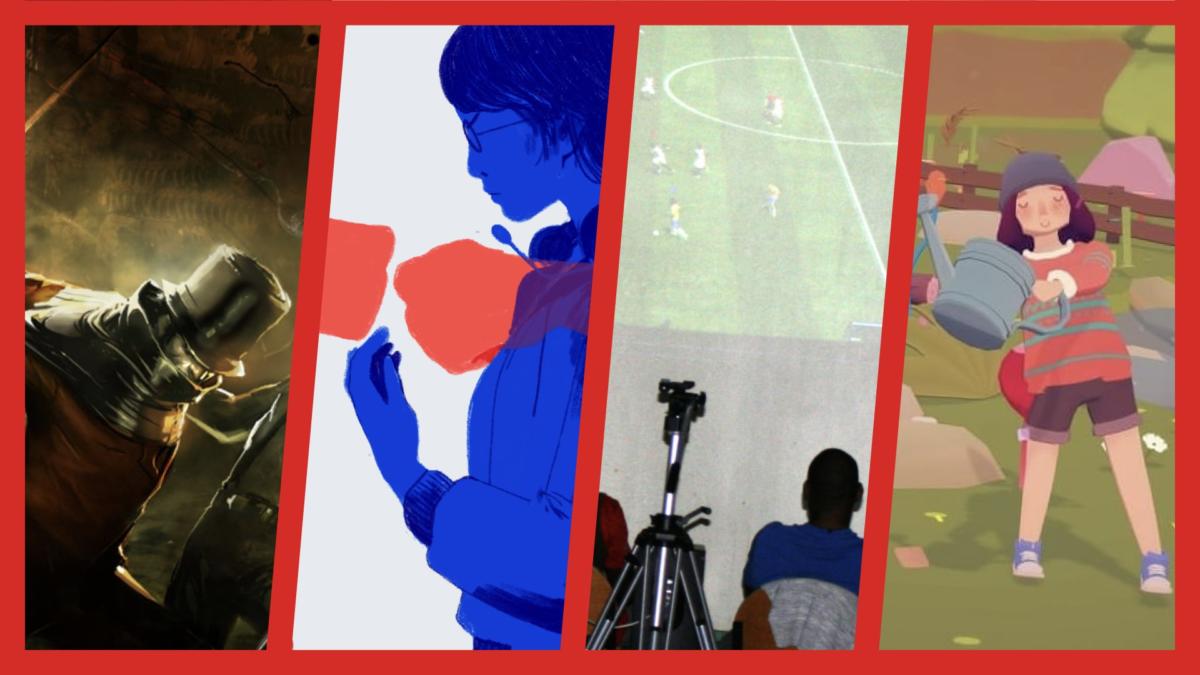 Des liens de fond autour du jeu vidéo, loin de l'actualité quo­ti­dienne tré­pi­dante. Articles, vidéos, émis­sions, et autres for­mats longs.
À lire en français
Le jeu vidéo en pri­son – Ellen Replay / CanardPC ?
En cette plu­vieuse après‐midi du 15 juin, le len­de­main du match d'ouverture de la Coupe du monde qui oppo­sait la Russie à l'Arabie saou­dite, une poi­gnée de déte­nus de la mai­son cen­trale de Saint‐Maur se dis­pu­tait la pre­mière place d'une com­pé­ti­tion orga­ni­sée par un sur­veillant péni­ten­tiaire.
« Les jeux vidéo sont des dis­tri­bu­teurs de petites transes domes­tiques » – Ferdinand Cazalis et Nathalia Kloos / Jef Klak ?
S'il est natu­rel de se deman­der com­ment, de quoi, et par qui ils sont conçus, on peut aus­si cher­cher à savoir ce que fait un joueur devant l'écran, et quelles puis­sances il y trouve. C'est la démarche de Mathieu Triclot, auteur de Philosophie des jeux vidéo, paru en 2011 chez Zones. En inves­ti­guant les fonc­tions rem­plies et la place occu­pée par l'expérience vidéo­lu­dique dans l'histoire et dans notre quo­ti­dien, il réac­tive le corps au centre de cette pra­tique. Son action se limite‐elle alors aux règles de l'informatique, ou peut‐elle deve­nir sub­ver­sive ?
Assassin's Creed Unity est‐il un immonde jeu réac ? – Histony / Veni Vidi Sensi ?
Maintenant, le souf­flé est retom­bé. La série a connu cer­tains bas, a su se repen­ser, et Unity est glo­ba­le­ment recon­nu comme le maillon faible, vidéo­lu­di­que­ment par­lant. Mais que vaut‐il his­to­ri­que­ment ? La ques­tion n'est pas simple et implique de l'analyser sous plu­sieurs angles.
Les der­niers amants de Mario Paint – Sanakan / Gamekult ?
Cachés dans l'ombre de par­ti­tions ver­dâtres ou de pseu­do­nymes sibyl­lins, der­rière un compte YouTube qui n'a défi­ni­ti­ve­ment pas le nombre d'abonnés qu'il mérite, ces musi­ciens de l'extrême jouent avec l'outil de créa­tion musi­cale le plus limi­té et étran­ge­ment le plus sti­mu­lant jamais engen­dré : Mario Paint.
Shenmue : retour d'un monu­ment inache­vé – Victor Moisan / Carbone ?
Œuvre emblé­ma­tique pour toute une géné­ra­tion, ce titre réa­liste fut à l'époque le jeu vidéo le plus cher de l'histoire mais aus­si le chant du cygne de sa console, la Dreamcast. Shenmue demeure pour­tant l'un des jeux les plus mar­quants, si ce n'est l'emblème, de la der­nière machine de SEGA, un tour de force tech­no­lo­gique autant qu'une expé­ri­men­ta­tion de concepts ludiques inédits ayant depuis fait recette dans les jeux en monde ouvert.
À lire en anglais
Inside The Culture Of Sexism At Riot Games – Cecilia D'Anastasio / Kotaku ?
Some of those employees spoke on the record ; most spoke ano­ny­mous­ly because they fea­red for their future careers in the games indus­try or they were concer­ned that League of Legends' pas­sio­nate fan­base would reta­liate against them for spea­king out. Many of those sources pain­ted a pic­ture of Riot as a place where women are trea­ted unfair­ly, where the company's culture puts female employees at a disad­van­tage.
Chill out : a new wave of relaxing video games shows there's more to them than vio­lence – Sam Greer / The Guardian ?
Chill out games that focus on gro­wing and relaxing rather than shoo­ting or racing are not a rari­ty. They are not given the same expo­sure as their block­bus­ter coun­ter­parts, but they are plen­ti­ful and popu­lar.
Striving to be seen : Black Girl Gamers on Twitch – Jessica Conditt / Engadget ?
Thirty‐three years after the launch of the Nintendo Entertainment System, video game fans of all back­grounds congre­gate online to stream, chat, gos­sip and make friends in the video game uni­verse. Three years ago, Lopez took advan­tage of these tools and foun­ded Black Girl Gamers (BGG), first as a group on Facebook and now as a living orga­ni­za­tion with a pre­sence on Twitch, Twitter and Instagram.
Inside the rehab cli­nics trea­ting gaming addic­tion disor­der – Phil Iwaniuk / Eurogamer ?
While the WHO's clas­si­fi­ca­tion cast pre­vious­ly accep­ted gaming habits under new scru­ti­ny, front page news­pa­per head­lines like ‹Fortnite made me a sui­ci­dal drug addict› seem intent on sen­ding gaming to the guillo­tine before the debate about addic­tion has real­ly begun in ear­nest.
‹I am dra­wing from dif­ferent sources›: Hidetaka Miyazaki on life after Dark Souls – Keza MacDonald / The Guardian ?
Before the Souls series, FromSoftware's sof­to­gra­phy was eclec­tic, taking in nume­rous mech action games, role­playing games and strange adven­tures, a game about cats living on an island, a co‐operative car­toon adven­ture star­ring two cute bun­nies and a few samu­rai games that doubt­less ins­pi­red the stu­dio to return to warring‐states era Japan with Sekiro. One par­ti­cu­lar game from the back cata­logue encou­ra­ged Miyazaki to branch out from violent action games for the first time in 10 years.
The Ripper : The dis­tur­bing Visceral Games pro­ject that never was – Alex Riviello / Polygon ?
As I gues­sed from the name, EA was wor­king on a game about Jack the Ripper. You would play as The Ripper him­self — a real‐life serial killer — in a game that would be unthin­ka­bly bloo­dy, bru­tal and contro­ver­sial. Your vic­tims would be mode­led after the actual vic­tims, and you would recreate the real mur­der scenes. But here's the catch — in the game, Jack the Ripper was actual­ly a hero, as his vic­tims were vam­pires in dis­guise.
À écouter en anglais
Ashraf Ismail of Assassin's Creed – Ted Price / The AIAS Game Maker's Notebook ?
Ashraf Ismail (Assassin's Creed IV : Black Flag, Assassin's Creed Origins) sits down with Ted to talk about buil­ding large scale game sys­tems, res­pec­ting cultures and his­to­ry, the chal­lenges of quest crea­tion, and why it's impor­tant that games are worth their price.
À regarder en anglais
Making Games Better for Gamers with Colourblindness & Low Vision – Mark Brown / Designing for Disability ?
Video games are for eve­ryone. But disa­bled people can be left out if deve­lo­pers don't consi­der their needs. In this series of videos, I'll be sha­ring gui­de­lines and best prac­tices for making games more acces­sible to a wide range of disa­bi­li­ties. This time, I'm loo­king at desi­gn choices and menu options that will affect those who are colour­blind or have low vision.
Is Ray tra­cing the future of game gra­phics : What is Rasterization v Ray Tracing ? – NX Gamer ?
Video game gra­phics have evol­ved over the years from the ear­ly incep­tion of pixels and vec­tor gra­phics in the 70's to a point where they are no lon­ger reco­gni­zable. One thing has remai­ned and was the single‐handed win­ning solu­tion, ras­te­ri­za­tion.
DF Retro H2O ! Water Rendering : Wave Race 64, Quake, Duke Nukem 3D + Many More ! – John Linneman / Digital Foundry ?
DF Retro returns with a two‐part show­case cove­ring the his­to­ry of water ren­de­ring in games, star­ting from the ear­ly 90s to and ending with the last‐gen consoles ! In this first part, we start with a look at 16‐bit 2D ras­ter tricks on Megadrive/Genesis, Super NES, NES and Game Boy before moving into the 3D era !
---
Illustrations : © Electronic Arts, Chelsea Beck, Ellen Replay, Glumberland.